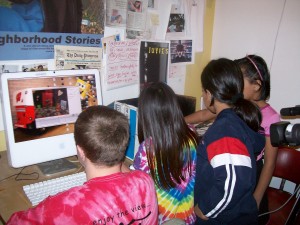 PROMOTING
INCLUSIVE out-of-school time programming
ENRICHING, meaningful activities
COLLABORATIVE strategic alliances
Mission
The Enrichment Alliance of Virginia is a non-profit organization dedicated to bringing ideas, people, and resources together to enrich the out-of-school school time of critically under-served children and youth.
Vision
That all children, regardless of income, location, language barriers, or special needs will be able to be included in meaningful, enriching activities during their out-of-school hours.
Rationale
Participation in out-of-school time programs has directly been related to:
Improved peer relations

Improved emotional adjustment and conflict resolution skills

Improved academic performance, and an increased interest in further education

Stronger self-image and increased self-esteem

Increased positive social development and reductions in risk-taking behavior

Better in-school behavior and fewer absences.
Activities in Brief
The Enrichment Alliance provides enriching activities for children with Special Needs, English Language Learners, Rural Children, and other children with limited access to the humanities and sciences outside of school. We also provide trainings and other forms support to enrichment providers in order to help them become more inclusive of critically under-served children.
 The Summer Inclusion Project places trained mentors in summer day camps in order to increase the accessibility of these programs to children with disabilities.  Participants are children and youth under the age of 18 enrolled in mainstream summer day camps and programs in the Charlottesville, Virginia area.  Children with disabilities are included in these camps with the support of specially trained mentors.  Our primary partner is Charlottesville Parks and Recreation.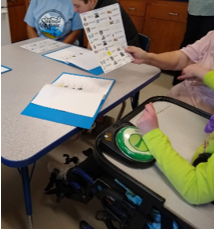 POPnPOEMS is a workshop led by our directory, MaryAnna Dunn. Through popular music we  explore the elements of poetry. Participants watch music videos, read poetry, and write their own poems.  These workshops are intentionally inclusive of children and youth with differing abilities.
---
Training Workshops
Opening Dialogue with Families. From your promotional materials to conversations at pick-up, you are engaged in dialogue with families. In this workshop we will explore the messages about inclusion providers send and receive through written materials such as webpages and applications, and through the conversations with families. The goal of this workshop is to help providers develop a team relationship with parents in order to improve the exchange of information needed to help children with disabilities have successful camp experiences.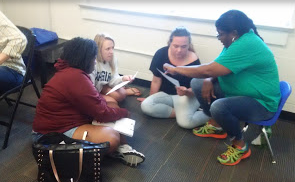 Recommended time allotment: 1 ½ hours.
Creating a Supportive Environment. This workshop provides an overview of commonly used strategies to support children with autism, ADHD, and other neurological challenges. In this workshop, we will address some of the common issues that occur in out-of-school-time programs, such as standing in line, handling transitions, having positive experiences with craft and sports activities, and coping with sensory sensitivity.
Recommended time allotment: 4 hours. May be broken into two 2 hour sections.
Ew! Glue! What's so scary about a bottle of glue? What can possibly be challenging about tearing a piece of cellophane tape off its roller? For some children with sensory challenges, a bottle of glue might as well be a vat of acid. For some children with fine motor challenges, tearing off a piece of tape might seem like brain surgery. With a few simple accommodations these and other camp and after school activities can be engaging and rewarding for every child in your program.
Recommended time allotment:1 and ½ hours.
Welcoming Children on the Autism Spectrum in Your Enrichment Program. This interactive workshop begins with looking at some characteristics common among children on the autism spectrum, then moves into simple ways programs can support children with autism in their programs.
Recommended time allotment: 3-4 hours. May be split over two sessions.
Community Workshops: We also host occasional community workshops, usually with outside presenters chosen for their expertise in a particular area affecting afterschool and/or inclusion. Topics currently under consideration include: Easy to Use Enrichment Activities, Inclusion of English Language Learners, Inclusion of Children with Disabilities, Inclusion of Children Impacted by Trauma, Recognizing and Responding to Abuse and Neglect, and Safe Support in a Behavioral Crisis. Please sign-up for our mailing list on our website to receive information about these trainings.
Pricing:
Staff workshops are $100 to $300 depending on the length of the workshop.
Consult services are $30.00 an hour after an initial, complementary meeting.
Community workshops prices vary.
Contact Us
PO Box 1423 Charlottesville, Va. 22902