May 18-19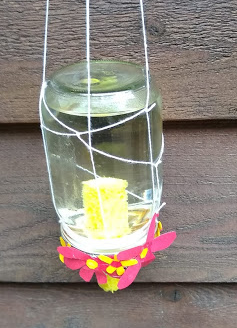 Use materials from around the house to make a butterfly feeder. It might attract hummingbirds as well, although for hummingbirds you may need to position it differently. Craft foam is listed in the materials for the project, but we made ours without any. Use what you have on hand. That makes it YOUR project.
You'll want to know who's visiting your feeder, so try some of these identification activities, including the butterfly scavenger hunt.
All the butterflies you've been observing could serve as inspiration for some gorgeous art work. This Pinterest board is filled with butterfly themed arts and crafts activities suited to all ages.