May 4-5 Aquaria
(That's the plural of aquarium not an astrological sign, in case you weren't sure.)
As you may have heard by now, the penguins are taking field trips in aquaria (that's the plural of aquarium. I just said that, right?) Join them on their tour of The Florida Aquarium.
Staff at The North Carolina Aquarium at Pine Knoll Shores are working incredibly hard to keep young people engaged in learning about marine life during the pandemic with activities and an animal of the day. They even have a virtual bookshelf.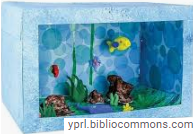 Now you know enough to make your own aquarium, and you don't even need live animals to do it. Check out this Pinterest Board to get some ideas for making an aquarium diorama. Maybe you'll want to make two aquariums. No wait, that's aquaria.