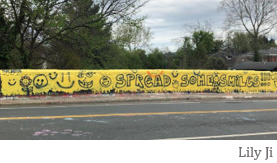 Neighborhood Bridge Walk. Take a walk around your neighborhood and look for bridges. You may see some bridges that have a lot of meaning to our community, like Beta Bridge, Belmont Bridge, and Free Bridge. You will surely find small bridges as well, maybe so small you never even really noticed them before. Look closely. How are they made? How old do you think they are? Do people use them in other ways besides crossing to the other side? How do they create and support communities? Take pictures, draw, or describe the bridges you see. If your bridge crosses water, play Pooh Sticks.
Here are some more great ideas for neighborhood walks.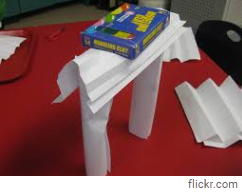 Paper Bridges From 101 Coolest Simple Science Experiments, by Rachel Miller, Holly Homer, and Jamie Harrington. Page Street Publishing, 2016
Now that you've visited neighborhood bridges, you're nearly ready to build some bridges of your own. First, you need to figure out how to make your bridge strong.
Let's try at least three kinds of bridges and test each with weight to see if it holds up.
Bridge #1: Fold a piece of paper in half lengthwise (hot dog style). Place two cups upside down on a table about three inches apart, so that the paper "bridges" the space between the cups. Place pennies onto your bridge until it collapses. How many pennies did it hold?
Bridge #2: Cut a second piece of construction paper in half lengthwise. Fold each strip on the long sides. Tape the strips together. Place the paper on the cups as before and put pennies on it until it collapses. How many pennies would it hold this time?
Bridge #3: With your final piece of paper, fold it like an accordion. Balance the folded paper between the cups and place the pennies on it as before. How many pennies did it hold?
Which bridge held the most weight? Why do you think that was? Do you have any other ideas? Different folds? Different materials? Can you make a bridge strong AND beautiful? Google famous bridges and look at some of the world's most amazing and important structures.
Video Version. Here's a video of a very similar activity if you are the kind of person who learns by watching.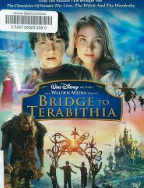 Art and Literature
Here are two stories about bridges and neighbors:
The Bridge, This is a story about two brothers who still fought, even though they were now grown. One of the brothers hired a carpenter, who solved their problem in a surprising way. Suited for all readers.
The Bridge to Terabithia. Two children, from very different backgrounds, build a bridge…and an imaginative new world. Some emotionally difficult material which some children may find upsetting.