Escape in Place. June 27-30
Ready to escape? Aren't we all? You can escape in place by creating your own Escape Room. It can be as simple or complicated as you want. If you have never been to an Escape Room, it could be helpful to view a few videos of live Escape Rooms to get the general idea. The video below is a bit long, so you may want to scroll through.
---
Here is a simple, but creative homemade Escape Room to give you some ideas. Unlike some DIY Escape Rooms, it is not themed.
---
Locks aren't the only material used in Escape Rooms, but they are heavily relied on.This mom delighted her kids with fancy new locks, which might not always work for families on budgets. Consider putting the word out to friends that you would like to borrow locks, or look on eBay. Puzzles are also essential. Puzzles and plans are available at several sites, including Lock Paper Scissors and Big Escape Rooms. Using a pre-made plan is recommended as a good way to get started on creating home Escape Rooms.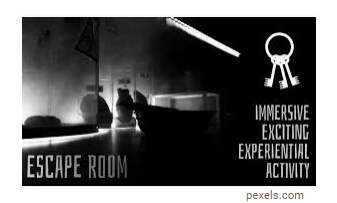 ---
When you are are ready to jump into design, you can get guidance from escape-kit. Engaging your children in designing Escape Rooms for each other, or virtual Escape Rooms for friends, will not only be enormous fun, but also a great way to develop creative and critical thinking skills. Not to mentioned the content knowledge that can be worked into the creation of your room.
---
When the time is right for you to visit live Escape Rooms, there are two facilities in the Charlottesville. Check their sites for information on COVID-19 opening plans.
https://www.cvilleescaperoom.com/ Unlocked History Escape Room