May 30 – June 2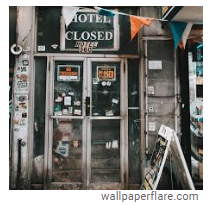 Whether vacation plans for the summer were cancelled by quarantine, or a family vacation was never in the budget to begin with, it's still important to set aside a time to to exchange the same old routine for some fun and relaxation.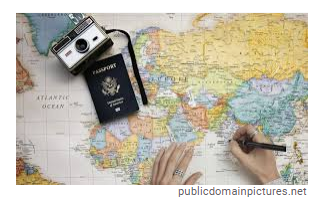 Every vacation takes planning. A staycation is no different. If you can't get away this summer, or even if you can but quarantine has you in the doldrums for now: it's time to plan a staycation. If you have a child with developmental differences, you may want to prepare for these changes with social stories or visual schedules, since changing a routine in a familiar setting may be especially confusing without some preparation.
Begin by finding out what's important about vacation to your family. A change of scene? A change in routine? Freedom from daily chores and meal planning? Make a list with your family and start thinking about how you can create opportunities at home. Read more about planning a staycation for your family.
Engage your children as much as possible in these activities for physically transforming your home into a vacation destination. For example, do your folding with the kids a few days in advance and set the towels and napkins aside until the vacation begins. And remember, if it feels too much like work, it's NOT a staycation. If it's fun, fold a towel like a swan. But it could feel just as special to roll your towels up and put them in a basket.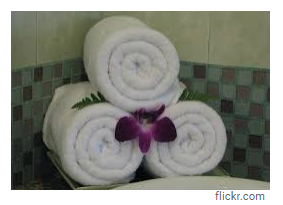 An Inn in Your Home. If the novelty of sleeping in a new place is a named as a reason your family loves vacation, make your home extra, extra special for a week. Kids might find that rearranging their bedrooms gives them a feeling of waking up in a new space. Or would they like to sleep in a different room? Maybe swap rooms with a sibling, or sleep in a cardboard "fort" (see May 27 post). Turn your bathroom into a hotel bathroom with flowers, guest soaps, and specially folded towels. And don't forget to fold that little triangle at the end of your toilet paper roll!
Dining Out Dining In. Probably dining out will be mentioned as a favorite vacation experience. It may be that it works for your family to visit some local restaurants. If so, to create the novelty of vacation, try some restaurants you haven't been to before. But if weather, budget, or health concerns mean you prefer to eat at home, you can still make it new. This article on turning your dining room into a restaurant offers some great ideas. Here are a few more: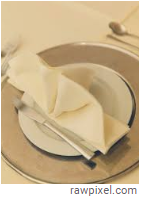 Rearrange your eating area or move it to another part of the house.
Fold your napkins like the pros. Here are a video and a set of written step-by step instructions with photos.
Change up your place setting.
And try some recipes you've never prepared before, or order from a new restaurant.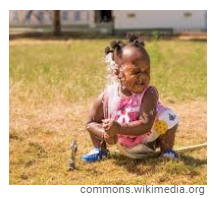 Backyard Destinations. Of course, there's more to vacation than sleeping and eating. There is. Really! Mini golf is usually a vacation favorite, so why not set up a golf course in your backyard? You can make it as simple or complicated as you want. This video tells how to make a hole with a cardboard box and a cup, but you can also dig tin cans into the ground. Put some big toys near your holes to create a theme. No clubs and golf balls? Improvise with sticks and small balls. After a few rounds of golf, you'll be hot, so you might want to visit a water park next.
What's your favorite destination? Try entering the destination with the phrase "Turn your backyard into a …" or "turn your house into a …" Some hits will be off topic, but you'll get some cool ideas, too. Next week-end, we'll share some day trips that are open in Central Virginia.