April 24
Sometimes all you need is a deck of playing cards, and you're good to go for hours.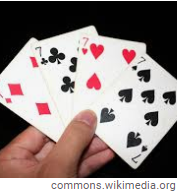 Just on this one site you can find 15 different card games. There are a variety of types of card games here, as well as games suited for different ages and for different numbers of players.
Not everyone can hold cards in their hands, so we're providing a link to products that hold cards for players.
When you've run through all the card games you know, and you still are looking for something to do, it's time to build a card house.
Here is a video that does the best job ever of explaining how, but we'd suggest leaving out the cinder block!
Now that you have the basics, you can do some utterly amazing things. Type card houses into images.google or YouTube to see some architectural wonders. You're sure to be inspired, and when you are remember to take pictures of your creations and tag enrichmentalliance on Instagram.