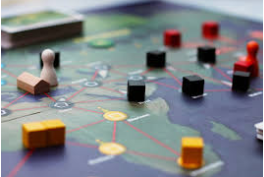 March 27
Get Ready for Game Night
Art and Literature
Make your own board game. This video by the National Museum of Australia is full of great ideas for creating board games using readily available materials. The museum has additional videos and activities.
Movement
Movement and Music Games. Yesterday we posted a link to a rock podcast. Use the podcast to play some music and movement games, like musical hide and seek.
Science and Math
Brainteasers. How quickly can you do the penny triangle challenge? This and other brain challenges use materials you should be able to find around the house, but if not, just improvise, sticks for toothpicks, buttons for pennies.
Adapting Games
Making Games Work…. This article has outstanding suggestions for making board games frequently played at home accessible at all levels.