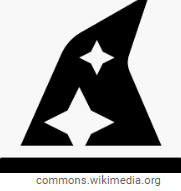 More Magic. Yesterday, we suggested this quarantine would be a great time to read or re-read the Harry Potter Series. Here is a very diverse list of movies about magic. This list has movies suitable for everyone to from young children to adults with notes to help you decide if the themes are appropriate for you and your family.
Maybe you'd rather make your own magic.
The whole concept of "moving pictures" evolved from the illusion of motion caused by watching a rapid succession of images that are just barely changing. Make your own movie flip book with a few sheets of paper stapled in one corner.