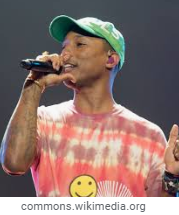 Art and Literature.
As we continue to enjoy National Poetry Month, let's look at out how poets and lyricists express the feeling of being uplifted.
Happy. "If you feel like a room without a roof." Wow! What a powerful way to describe happiness. Listen to the lyrics of Pharrell Williams' "Happy," and you can't feel anything but joy. That's the power of writing.
"Hope is the Thing With Feathers." Spoken. ASL With Captions. Emily Dickinson uses the same theme of being lifted up in her famous poem about hope. How do you feel when you know something wonderful is just about to happen? Like something is about to soar inside you?
Try one of these opening phrases and write your own song or poem: "Joy is_____", "Sadness is _____", "Anger is _____", "Love is _____," "Excitement is _______," "Relief is ______."
If you would like to further explore this pairing of "Happy" and "Hope Is the Thing With Feathers," download our lesson plans. These plans included adaptable materials for writers in need of frameworks and visual aides.
Movement.
Jump for Joy: Here are a couple of videos to inspire you.
Okay, did they inspire you? Or more like intimidate you? Here are two videos to help you get those jump rope moves down.
Dance jump rope tricks. Boxing jump rope tricks.